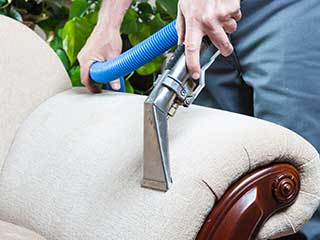 How often do you think of upholstery cleaning when you get ready to spick and span the whole house? Let's admit it! It's the last thing you would ever think of doing. There are so many things to tidy and clean in the house and sometimes we forget the obvious. We often talk about the importance of carpet cleaning for the avoidance of dust mites and allergens, which will have terrible repercussions to our health, and forget that our lovely sofa might give us similar problems. Who said that dust only loves carpets? It will also sit on your couch, dine on your dressed chairs, and relax on your armchairs. This furniture might not have fibers, which will imprison pollutants, but their textiles will still attract bacteria and mites and don't forget that they get stained, too.
Take Care of Your Family With Couch Cleaning
Sofa stain removal might solve one problem and give birth to another. If you leave the area wet or (even worse) turn around the cushion, mold might grow. We trust completely the health of our sofas just because they are not on the floor. Don't forget that armchairs and couches have hidden and unseen parts, where dirt is collected. If these parts are not thoroughly cleaned, health threats become bigger.
Residential upholstery cleaning will ensure that your sofas and armchairs:
Will be beautiful, look good, and last longer
Will be free of pathogens, mites, and bacteria, which might irritate your skin or free dust allergens in the indoor environment
Will be free of bad odors and this is extremely important if you have pets
The significance of pet stain & odor removal and meticulous cleaning is higher if you have kids at home since they are usually more sensitive to health issues. For all the same reasons, using the right ecofriendly products is equally important. Skin rashes also grow when there is an irritation from detergents containing chemicals. Making wise choices is important and keeping upholstery properly and perfectly clean is one of the wisest ones.