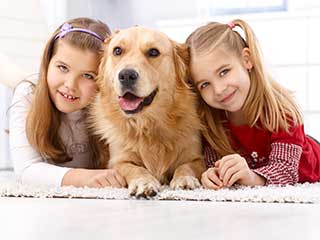 You must be wondering, how can your pet possibly cause any grave water damage? Our professional carpet cleaners have come across many cases. Read on to learn about some of them, and how you can take advantage of our pet stain removal in case you face a similar situation.
Removing Stains and Odors Made By Wet Pets
Flooding in the room below the bathroom:
We all know how fun it can be giving your dog a bath. The real shame is, a big dog bath usually means huge tidal waves of bath splash. This does not always impact the bathroom that badly, but sometimes excessive flooding upstairs can lead to leaking or flooding downstairs. Downstairs is where all the lovely carpet is.
Mold build-up in hidden places:
Dogs can often find covered and concealed places to do their private grooming, napping and drooling. This can often mean owners finding patches of mold here and there when moving around furniture. Mold that has been unnoticed for some time is likely to be dark, set it, and a right handful to clean.
Patches of soaked carpet or furniture:
Anyone who has ever been caught by a heavy rain while taking the dog for a walk, or is lucky enough to have a pool, will know all about this. When dogs get drenched, it doesn't stop them from darting straight to their favorite spot in the lounge or to the couch for a good roll.
Our Restoration Services to the Rescue!
Sometimes simply airing out the room isn't enough, and longer term damage is caused by large amounts of water seeping into your carpet and furniture. Our carpet cleaning experts can apply an array of clever solutions to repair the damage done by your best friend. These include sucking up excessive damp and dirt with high powered carpet and upholstery washers.
Count on our team at Carpet Cleaning Garden Grove for professional pet stain and odor removal services, including all types of mold removal and water damage restoration solutions.